IDenticard Systems Installers
North and South Carolina Security Systems Installations for Commercial and Residential - Quality work at competitive rates. New Installations or old System Repairs - Free Estimates
IDenticard Systems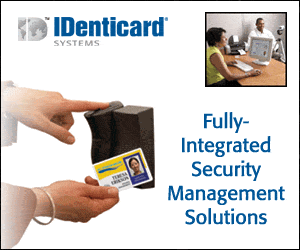 About IDenticard Systems
Founded in 1970 as a photo ID seller, IDenticard is now part of the ID and security products division of Brady Corporation, a billion dollar manufacturer and distributor of a variety of identification products. Based in Pennsylvania and with offices in Massachusetts and Ontario, IDenticard is an international company focused on providing top-notch products, support and service to its customers.
Card Access Systems
Card access systems restrict entry into your buildings, combine multiple card reader technologies, and positively identify your people.
Access control with an eye to the future.
IDenticard® ushers in the next era of security management with the release of its PremiSys™ access control system. Offering an impressive set of advanced features made available by today's sophisticated technology; PremiSys™ is an attractive option for facilities of every size. Whether you are looking to secure a small office building or a complex network of facilities requiring superior security management integration, PremiSys™ is the versatile, new access solution from the trusted name in security.
Integrated Solutions.
IDenticard® offers a comprehensive line of integrated security products includes:
Custom ID cards and badge accessories
Visitor management programs
ID badge software
Access control Smart cards
Biometric solutions
Most importantly, IDenticard develops all their own software, so you are ensured the highest level of reliability and support.
---
Intrusion Detection Solutions
WIN-PAK® SE with VISTA
WIN-PAK® SE with VISTA integration is the newest version of Honeywell's most comprehensive access control software. By combining the power of access control, digital video and intrusion into one powerful system, WIN-PAK SE with VISTA integration improves scalability, capability and control.
WIN-PAK SE with VISTA integration provides a single user interface that integrates access control with video and intrusion to create a more robust platform with increased functionality. Functions that have traditionally been tied together through physical relays and input devices are now controlled logically. This simplicity gives users greater control over their systems than they had using multiple software platforms and interfaces.
IDenticard Launches New PremiSys Access Control System
Full access control functionality combines with expressionsID badging for complete best-in-breed solution
Las Vegas, NV (September 24, 2007) IDenticard, the industry leader in personal identification, access control and ID badges, is introducing PremiSys, their new integrated solution that combines full-featured access control software with best-in-breed badging.
PremiSys is the access control solution that does it all," said Aaron Henderson, Mgr., Product Development, IDenticard Systems. In addition to delivering all the functionality and performance needed for advanced access control applications, PremiSys incorporates the proven versatility of IDenticards expressionsID badging solution.
PremiSys' advanced features include options to prevent reusing cards to access the same area within a specified period of time, or until the card is used to exit the area.
The dynamic mapping feature, which enables monitoring of alarms, relays, doors and alarm acknowledgements through a floor plan/graphic map interface, is easy to configure, with drag-and-drop convenience. For further ease of use, IDenticard offers a Start-Up Kit to facilitate creation of a flexible and scalable access control system. A suite of choices includes options for compact or expandable controller, a range of enclosure sizes for up to eight controllers and boards, card and reader options and network connectivity for IP-based system functionality. Compatible with multiple access control reader formats including biometric, prox card, smart card, mag stripe and bar code, PremiSys is also ADA compliant, providing extended door time to cardholders with disabilities.
The built-in expressionsID solution makes card design and badgemaking convenient and simple, with the power and versatility to create distinctive and professional ID badges. Ready to use designs can be modified easily with drag-and-drop controls, and badges can be printed directly from the data entry screen.